Product Overview
PREMIUM GPS MULTISPORT WATCH FOR MULTISPORT & TRIATHLON TRAINING
Train smarter and discover the winner within your with Polar Vantage V, a premium multisport watch designed for pro athletes – and for anyone who trains like a pro. If you're looking for a high-end waterproof companion with ultra-long battery life for triathlon or marathon training, Polar Vantage V is the perfect match.
CUTTING-EDGE SPORTS TECH
With the latest wearable tech innovations, the Polar Vantage V gives you all the accurate data you would need to maximise your performance.
TOP SOLUTIONS FOR HEART RATE MONITORING
Polar Vantage V works with different heart rate tracking solutions, to provide you with an optimal heart rate monitoring method for your sports.

MONITOR YOUR RUNNING POWER
Polar Vantage V measures running power from the wrist - no additional foot pods or sensors needed.

OPTIMISE YOUR TRAINING
If you want to train like a pro, you need to recover like a pro. Polar Vantage V helps you find the right balance between training and rest and stay injury-free with a uniquely holistic training load and recovery tracking solution.
KNOW HOW YOU TRAIN
The new Training Load Pro™ gives you a comprehensive view on how your training sessions strain your body in different ways.
PREVENT OVERTRAINING AND INJURIES
See whether your body is ready for training and get recovery feedback with Recovery Pro™.
MORE THAN A SPORTS WATCH
When you train with Polar Vantage V, you get access to the full Polar ecosystem where everything is connected. All your training data is conveniently available on one platform in Polar Flow.
You can also automatically sync your training data to other services such as Strava or TrainingPeaks.
THE ULTIMATE TRAINING PLATFORM
With extensive training planning and analysis tools, an automatic training diary, progress reports and much more, Polar Flow will help you achieve all your training goals.

DATA FOR YOUR COACH TOO
Share all your training data with your coach, get instant feedback and plan your season together with your coach with the free Polar Flow for Coach service.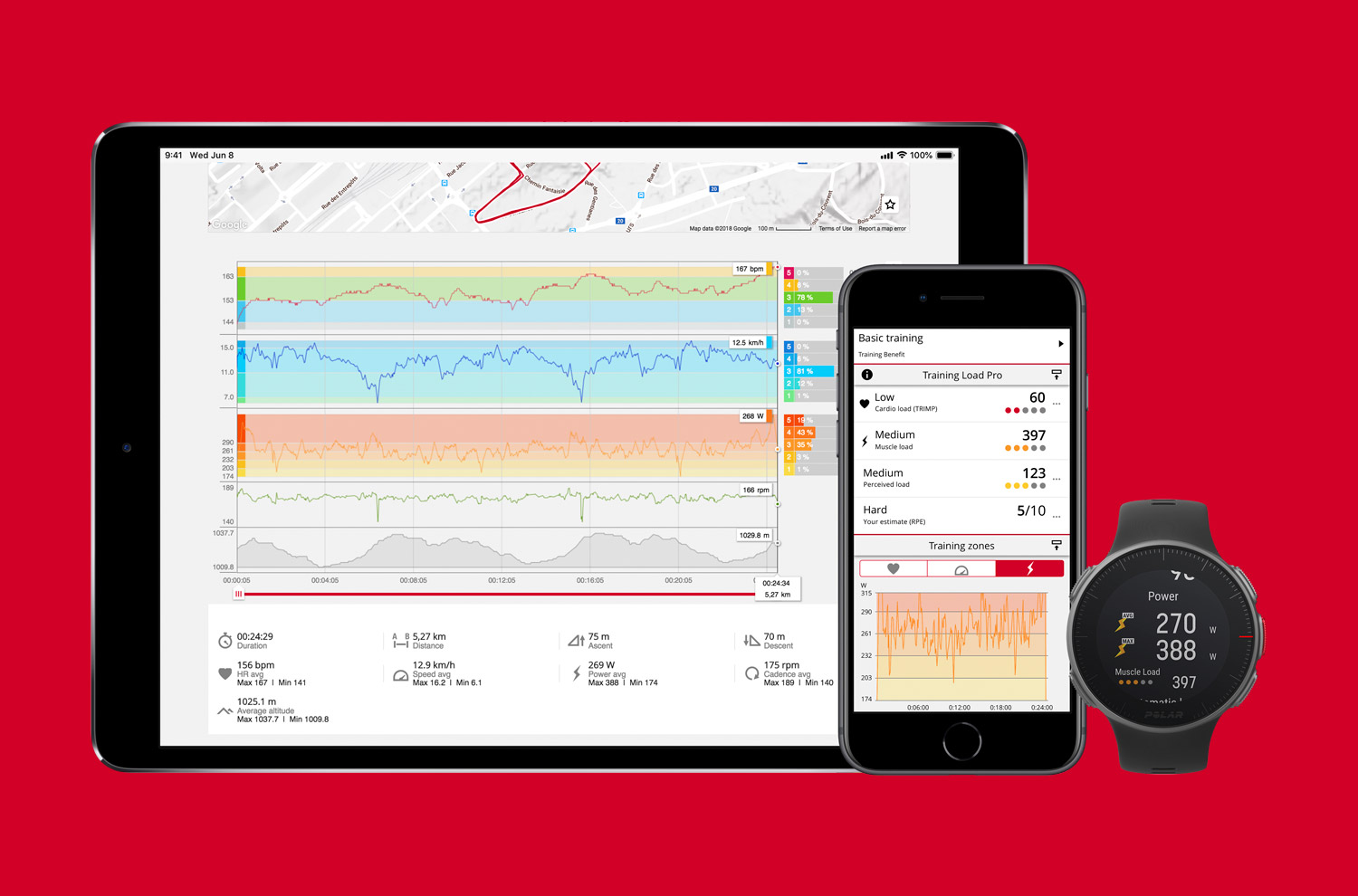 POLAR VANTAGE V
Polar Vantage V pro multisport watch
Charging cable
Polar Vantage V user manual
Information note
Measurements
46 x 46 x 13 mm
Weight
66 g with wristband, 44 g without wristband.
Materials
Extreme high strength stainless steel case. Glass fibre reinforced polymer back cover.
Display
Always on colour touch display. Laminated Gorilla glass lens with anti-fingerprint coating. Size 1.2", resolution 240 x 240.
Battery
320 mAh Li-pol battery. Battery life up to 40 h in training mode (GPS and wrist-based heart rate), up to 7 days in watch mode with continuous heart rate tracking.
GPS & Barometer
Integrated GPS & GLONASS. Assisted GPS for fast fix times. Barometric altitude, incline, ascent and descent.
Connectivity
Bluetooth Low Energy. Custom USB cable for charging and data synchronization.
Watch
Time & date. Vibrating alarm with snooze.
UI languages
English, German, French, Italian, Dutch, Norwegian, Spanish, Portuguese, Swedish, Finnish, Danish, Polish, Russian, Turkish, Indonesian, Czech
Sensors
Compatible with Polar BLE heart rate sensors.
Water resistant
Waterproof (WR50)
Wristbands
Durable and comfortable silicone.
Sizing:
S: wrist circumference 130-185 mm
M/L: wrist circumference 155-210 mm
POLAR FLOW
Plan your training
Plan all your training from individual workouts to full season plans.
Analyse your results
Get to the heart of your performance with the extensive training analysis tools.
Share with your coach
Share your training data with your coach or PT with the free Polar Flow for Coach service.
Get social
Share your highlights, join groups and let the Polar Flow community help you on your way to your goals.
CONNECTIVITY
Connect with online sports communities
Strava
TrainingPeaks
MyFitnessPal
Endomondo
Nike+ Run Club
FEATURE HIGHLIGHTS
Advanced wrist-based heart rate
Polar Vantage V tracks heart rate with the Precision Prime™ sensor fusion technology.*

Training Load Pro
Quantify the strain of your training session and see how your training strains the different parts of your body.

Sport profiles
Polar Vantage V supports over 130 different sports. Add your favourite sports to your sports watch in Polar Flow.
Swimming metrics
Follow your progress in the pool – Polar Vantage V automatically detects your heart rate, swimming style, distance, pace, strokes and rest times. Distance and strokes get tracked also in open water swimming.
Phone notifications
Stay connected with notifications from your phone. Get alerts for incoming calls, messages, emails, calendar events and more.
OTHER SMART COACHING FEATURES